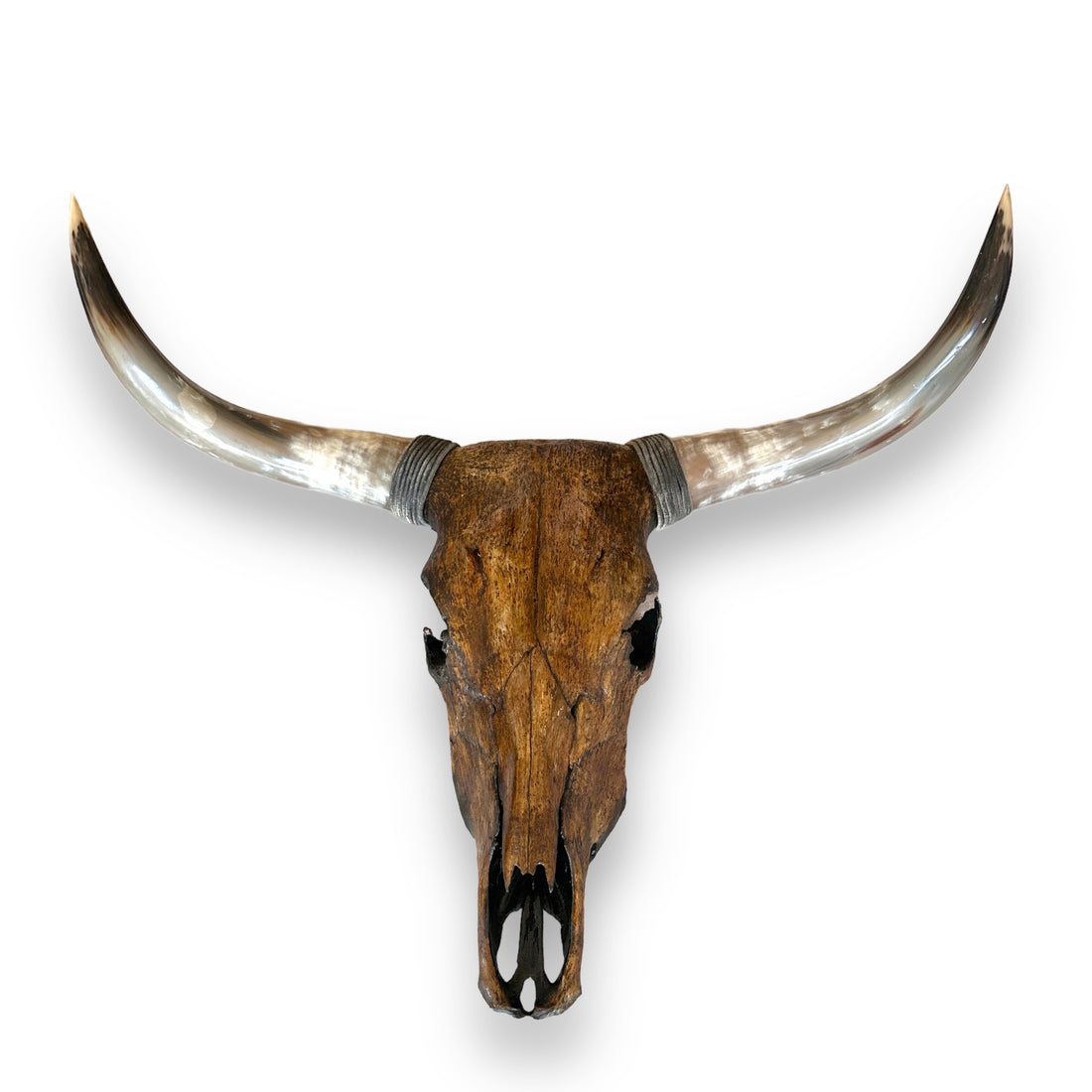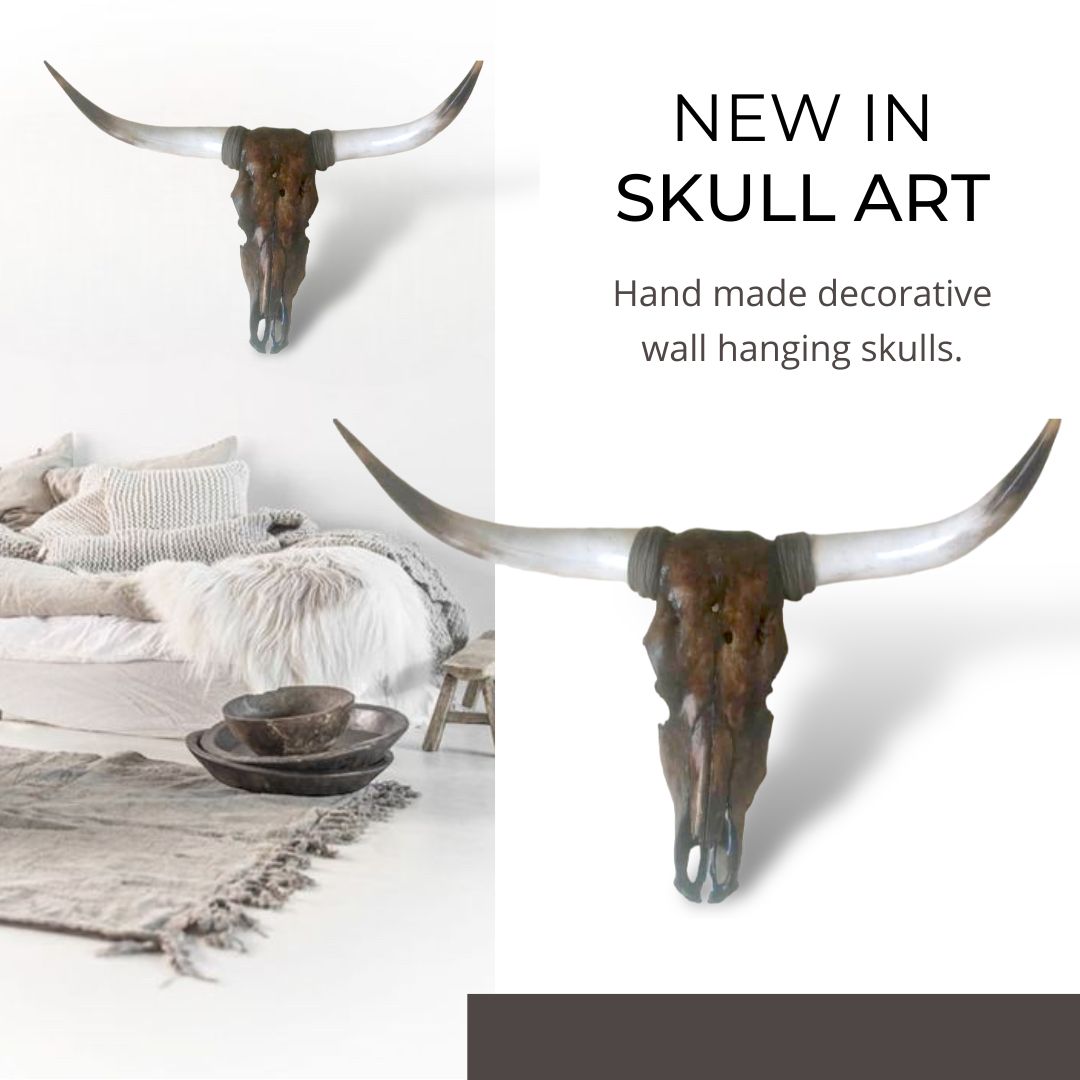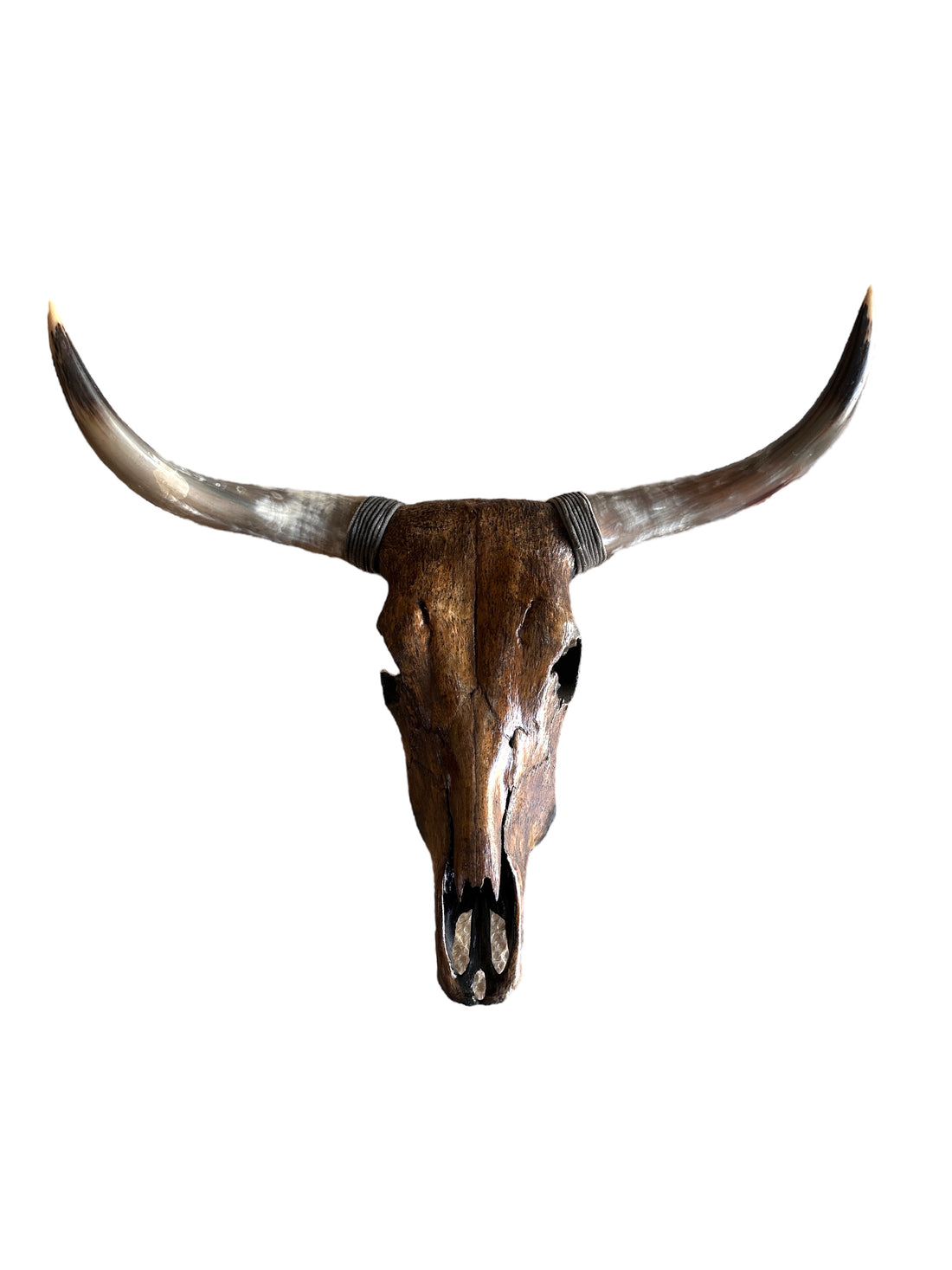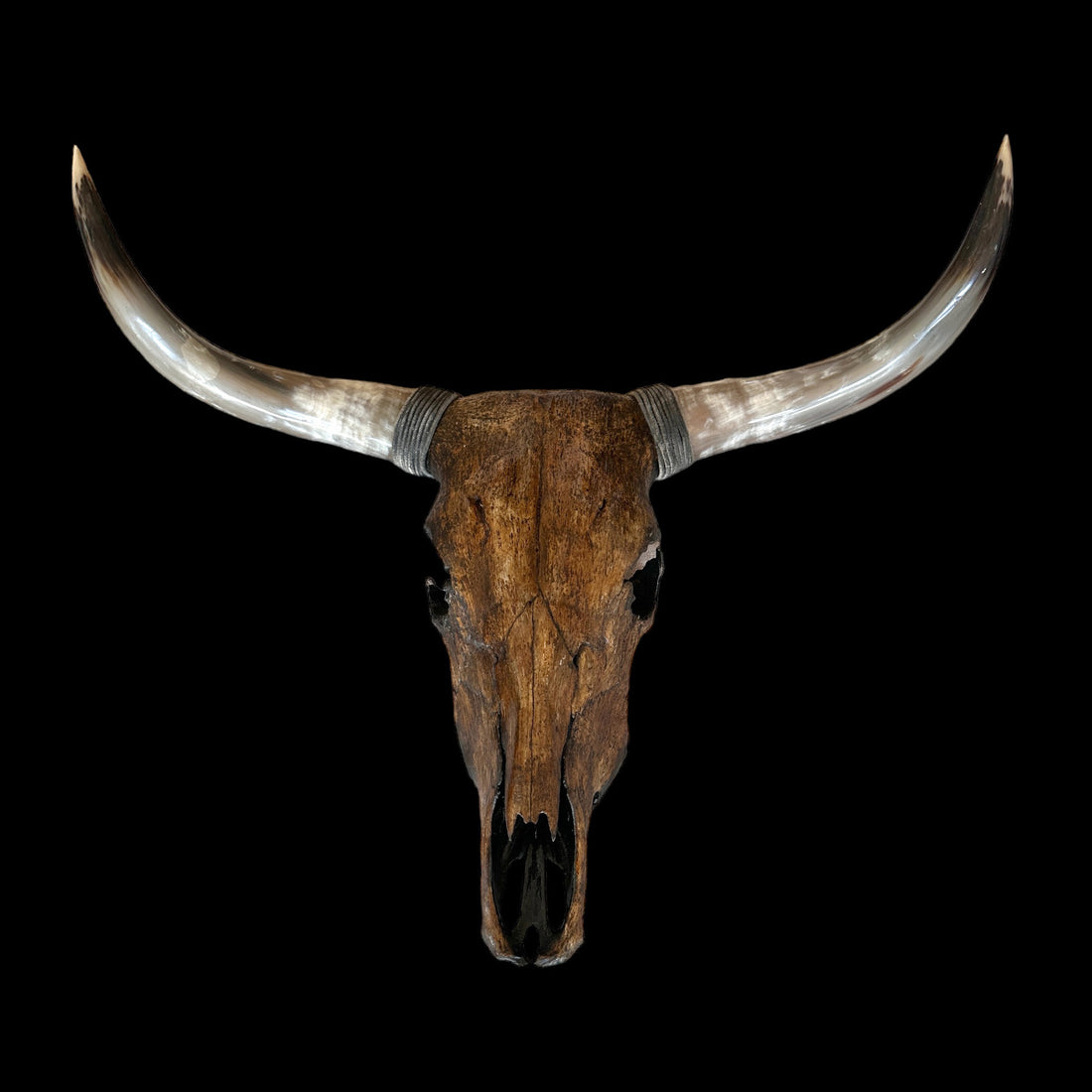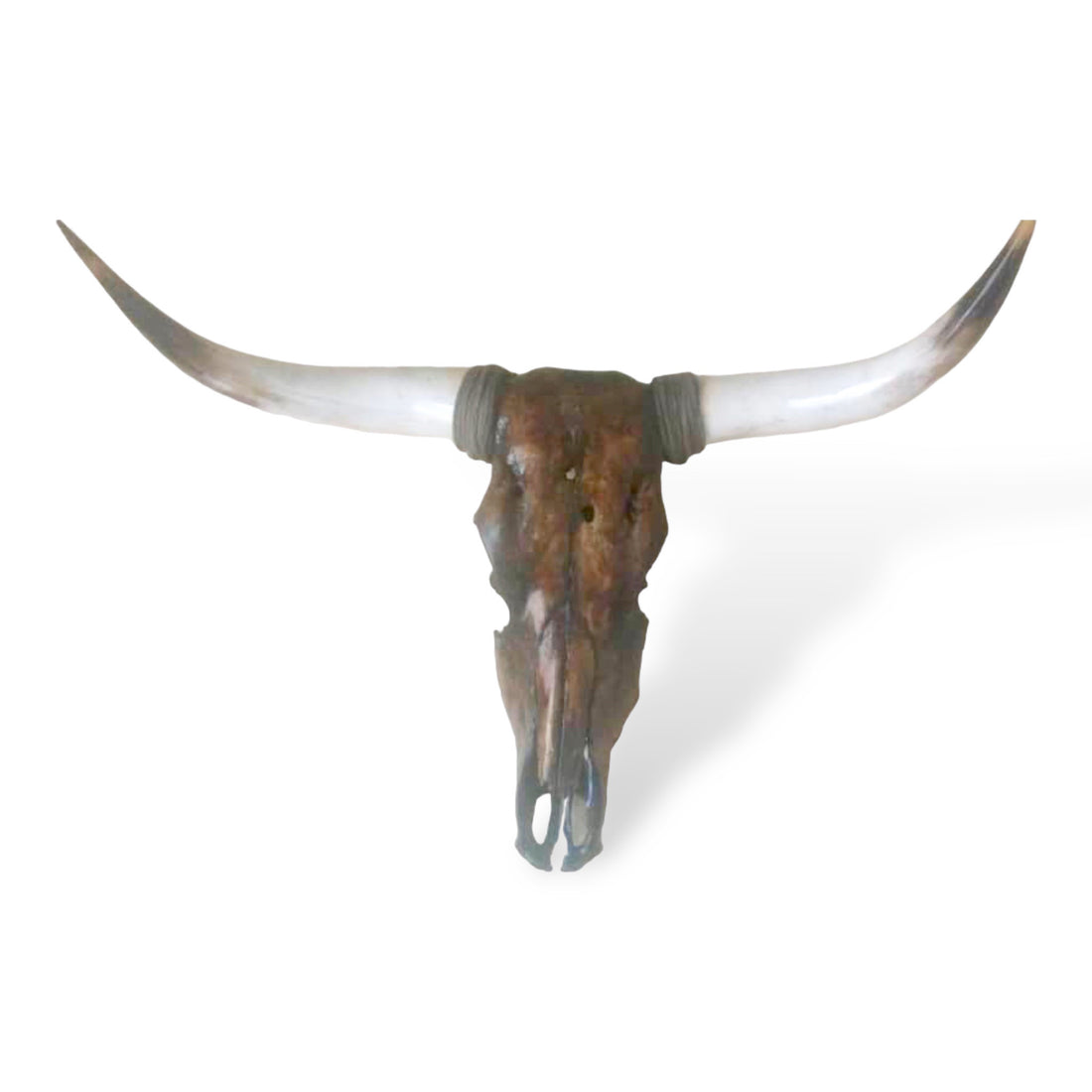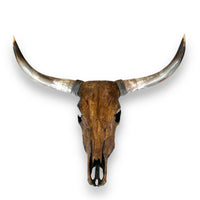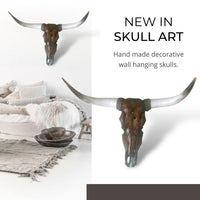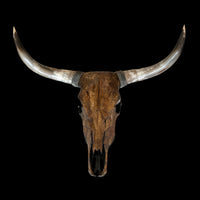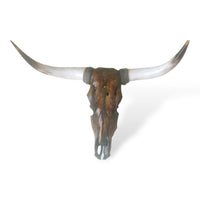 CowSkull - Skull Wall Decor
Click here to learn more about our rewards.
Infuse your home with the enchanting fusion of African art and modern decor Introducing our newest collection of Cow Skulls from Matebeland, Zimbabwe.

These stunning pieces are the epitome of artistic fusion, seamlessly blending African craftsmanship with modern decor. The horns are ethically sourced from Matebeleland while the centre parts of the skulls are all hand sculpted using metal and steel by talented artisans. Each one is an original piece of art.

Approximate Dimensions
(W) 65 - 85cm x (H) 60-85cm
As our skulls are a natural, organic product, no two skulls or horns are exactly alike. Each skull may vary slightly in size or shape - an individuality that makes them a true work of art.

IMPORTANT - We understand that when shopping online, the representation of colours plays a pivotal role in your decision-making process. We take immense care to ensure that the colours displayed on our website images closely resemble the actual product. However, due to the inherent variations in monitors, screens, and lighting conditions, we want to kindly remind you that the color you see on your screen may not be an exact match to the product you receive.

With authentic horns that add a touch of authenticity, these skulls are more than just decorative items—they are an exquisite fusion of authentic horns and intricate artistic designs. Whether placed above your cozy fireplace, adorning your entryway, or becoming the centrepiece of your living room, they are guaranteed to make a bold and beautiful statement.

Terms and Conditions on Lead times for our Cow Skulls. All orders are subject to acceptance and availability. The lead time for orders is typically 14 -18 days. They are imported, during which the product is custom designed, crafted and shipped.. It is important to note that lead times may vary based on current demand and shipping times may be affected by factors such as customs clearance and local delivery schedules. To ensure the timely delivery of your order, please make sure to provide accurate and complete shipping information. By placing an order for our Cow Skulls, you agree to these terms and conditions and acknowledge that the lead time of 14-18  days is an estimate and not a guarantee.


*Cow Skulls are all handcrafted, and while we maintain a high standard of production and quality control, we promote the individuality of the artisan's creation, and hope our customers appreciate and value this too. Embrace the beauty of imperfection as slight variations in size and design contribute to their rustic charm, making each piece perfectly imperfect. Images are for illustration purposes 
If you are interested in an item which is showing as sold out and would like to enquire if an early pre-order is available or for stock notifications, along with lead times then please contact us at info@eya.co.za
Courier - Standard Delivery 2-7 days
Note - In the event where items are made to order, please allow up to 6 weeks.

The estimated delivery lead time quoted to you at the time of order is an at best estimate of the delivery period. Whilst every effort is made at all times to achieve this date, it does happen occasionally that delays are encountered that are often outside of our control.
These products themselves are all handmade, and while we maintain a high standard of production and quality control, we equally celebrate the individual and their craft, and trust our customers appreciate and value this too - This gives each item a unique character and charm! Colour is natural as represented by product image. Small variances may occur in size and shape due to the handmade nature of these items.
You can checkout with various payment methods. We accept all major credit cards, instant EFT's (through PayStack & Ozow) and offer installments through PayFlex. Learn more about PayFlex here.